Revisión sobre hipertensión intracraneal en la población pediátrica. La hipertensión craneana idiopática (HCI) es una enfermedad que se origina en el aumento de la presión del líquido cefalorraquídeo (LCF) que acolcha y. Request PDF on ResearchGate | Medidas de primer nivel en el tratamiento de la hipertensión intracraneal en el paciente con un traumatismo.
| | |
| --- | --- |
| Author: | Bratilar Fenrizil |
| Country: | Burkina Faso |
| Language: | English (Spanish) |
| Genre: | Personal Growth |
| Published (Last): | 13 July 2017 |
| Pages: | 229 |
| PDF File Size: | 1.43 Mb |
| ePub File Size: | 10.99 Mb |
| ISBN: | 111-5-94430-313-8 |
| Downloads: | 31932 |
| Price: | Free* [*Free Regsitration Required] |
| Uploader: | Faegrel |
Intracranial hypertension in pediatric patients treated with recombinant human growth hormone: Intracranial hypertension and papilledema associated with nalidixic acid therapy. Using autofluorescence to detect optic nerve head drusen in children. Vitamin A intoxication as a cause of pseudotumor cerebri. Transverse sinus stenting for pseudotumor cerebri: J Neurol Neurosurg Psychiatry. Headache determines quality of life in idiopathic intracranial hypertension.
Optical coherence tomography as a tool for monitoring pediatric pseudotumor cerebri. Results of optic nerve sheath fenestration for pseudotumor cerebri. Toxicity of polar bear liver. Digre K, Warner J. Symptoms and disease associations in idiopathic intracranial hypertension pseudotumor cerebri: Eur J Paediatr Neurol. Reference range for cerebrospinal fluid opening pressure in children.
IIH Treatment Trial results. Visual loss without headache in children with pseudotumor cerebri and growth hormone treatment.
Hipertensión craneana idiopática — AAPOS
Pseudotumor cerebri secondary to lithium carbonate. High-dose methylprednisolone and acetazolamide for visual loss in pseudotumor cerebri. Benign forms of intracranial hypertension; toxic and otitic hydrocephalus. Management of stroke in infants and children: Benign intracranial hypertension in children with growth hormone deficiency treated with growth hormone.
Disorders of cerebrospinal fluid circulation causing intracranial hypertension without ventriculomegaly. Pseudotumor cerebri following tapered corticosteroid treatment in an 8-monthold infant.
Drusen of the optic disc. Pseudotumor cerebri associated with lithium use in an year-old boy.
Headache diagnoses in patients with treated idiopathic intracranial hypertension. CSF pressure and circulation. Reversibility of MRI features of pseudotumor cerebri syndrome.
American Association for Pediatric Ophthalmology and Strabismus
The first Jacobson Lecture. Effectiveness of ketamine in decreasing intracranial pressure in children with intracranial hypertension. MR imaging findings in children with pseudotumor cerebri and comparison with healthy controls. Treatment of idiopathic intracranial hypertension: Increased intracranial pressure following treatment of cystic fibrosis. Association of multiple sclerosis and intracranial hypertension. The lateral orbitotomy approach. Spontaneous cerebrospinal fluid otorrhea and rhinorrhea in idiopathic intracranial hypertension patients.
The well-known but well-kept secret. Papilledema and idiopathic intracranial hypertension. Case Rep Oncol Med.
Pseudotumor cerebri in children receiving recombinant human growth hormone. The search for causes of hiperfension intracranial hypertension. A prospective study of 50 patients. Cerebrospinal fluid pressure in normal obese subjects and patients with pseudotumor cerebri. Boreus LO, Sundstrom B.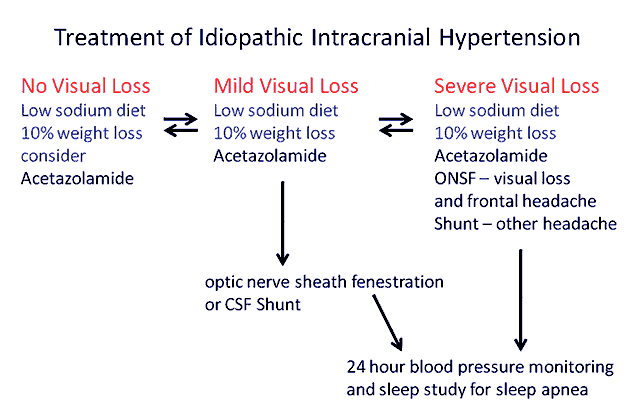 The effect of acetazolamide and furosemide on cerebrospinal fluid production and choroid plexus carbonic anhydrase activity.